ProMixx Vortex Mixer
No Shaking, no Lumps, smoother smoothies and a better taste overall. ProMixx Vortex Mixer is a great addition to any fitness enthusiast's kitchen or gym bag.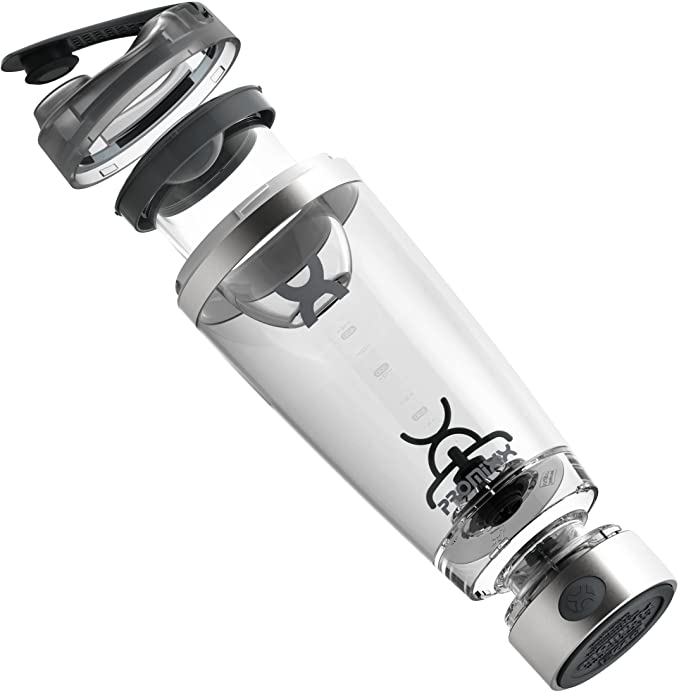 I recently saw a video on a fitness Instagram account that made my eyes light up. It was of the ProMixx Vortex Mixer in action. Very quiet, a gentle swirl begins at the bottom and then spreads upwards creating a funnel to mix everything up inside. I decided I had to go get one.
It has turned into one of the best purchases of the year that I have made so far.
After my HIIT (High Intensity Interval Training) workouts using kettle bells, I need to replenish my body and I generally don't have time to prepare an actual meal. Protein shakes are the quickest and easiest thing for me to do. The problem is they can be a bit messy since they never mix up evenly for me. I thought about a blender, but that seemed a little expensive for what I needed.
The ProMixx offers a few things that I could never get in a blender:
it's reasonably priced at around $35.00
the blade at the bottom is small and easy to clean around
the mixer is extremely portable, being the size of a 600mL bottle
the motor takes two AAA batteries and is incredibly quiet, meaning I can mix up the protein shakes at night without waking up my daughter
It works very well for me, and has been very easy to clean up. I can easily fit my hand in to wipe around the bottle. Here is a video of it in action.
ProMixx from James McCullough on Vimeo.
My preferred protein powder is Vega Sport Premium Protein Powder. They have a few different flavours, chocolate, vanilla, berry, and peanut butter. Most health food stores will have single serving samples available to try or buy. They produce some of the smoothest and tastiest protein powders available.
High protein, low sugar, and it tastes delicious. Definitely worth tracking down if you want to switch things up.
The ProMixx is more widely available, including Amazon.